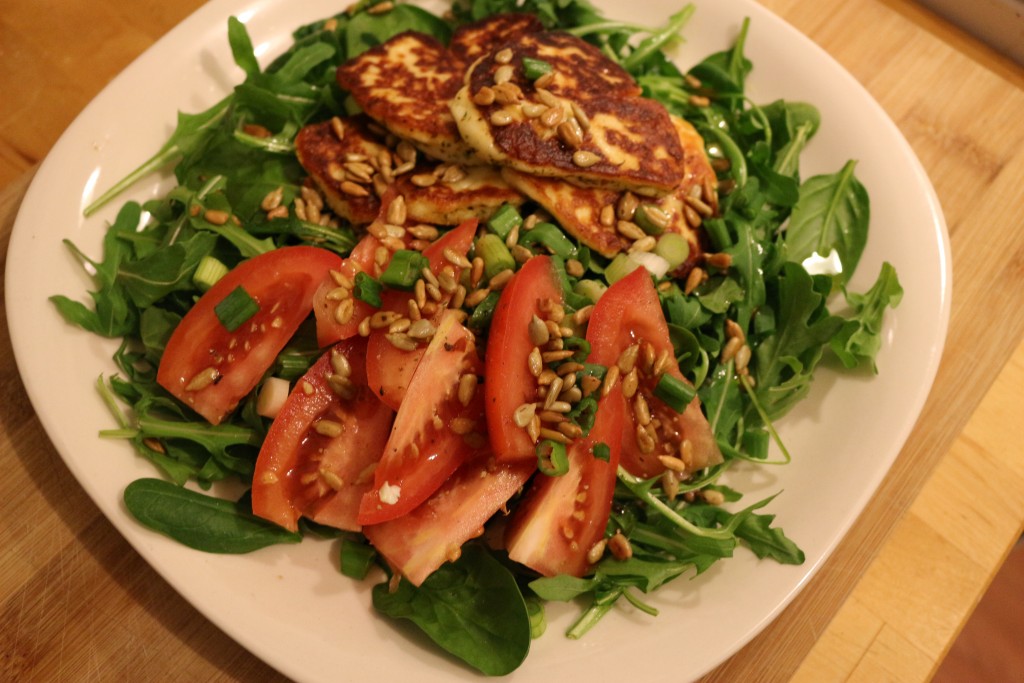 makes 2 servings
what you need!
3-4 cups fresh baby spinach
3 -4 cups fresh arugula
.25 cup sunflower seeds
1 package halloumi cheese (herbed or regular)
2 medium tomatoes
8-10 tbsp olive oil
.5 tsp sea salt
.5 tsp cracked black pepper
what you do!
slice tomatoes in quarters and cut halloumi cheese into 1/2 centimetre pieces. gently warm sunflower seeds with a little bit of olive oil in frying pan over medium heat for 2-3 minutes, remove seeds and place to the side. heat halloumi cheese in frying pan on medium heat with 2 tbspn's of olive oil and cook on either side for 3-4 minutes until golden brown.
wash, clean and dry baby spinach and arugula and mix together, place 1/2 and 1/2 on two plates. top salad with cheese, tomatoes and sunflower seeds. mix in a small bowl 5-6 tsp's of olive oil with salt and pepper, drizzle dressing over both plates! enjoy!